Vehicle Sales Slow in China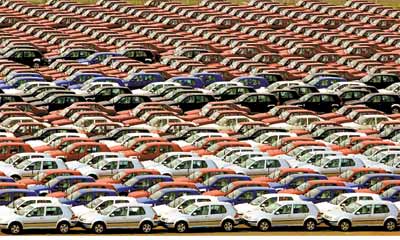 At the start of 2008, the two key numbers in China's auto industry were 10 million and 1 million. With sales of both passenger cars and commercial vehicles (trucks and buses) growing at 20 percent or more in the first few months of the year, it seemed all but certain that China's auto industry would produce at least 10 million vehicles in 2008. Likewise, vehicle exports have been nearly doubling every year for the past four—from a mere 78,000 units in 2004 to over 612,000 units in 2007—-so vehicle exports seemed a sure bet to cross the 1.0 million mark. 
With more than three quarters of the year gone, how is China doing against the 10 million vehicle benchmark? (Vehicle exports will be covered at a later date.) By the end of September, 4.3 million passenger cars and almost 3.0 million commercial vehicles have been sold. While both categories registered double digit, year on year increases in the first nine months —10.4 percent in the case of passenger cars and 13.4 percent in the case of commercial vehicles—growth rates have been losing steam all year, to the point where both categories registered year on year declines in September. With sales of approximately 750,000 vehicles in September (466,000 passenger cars and 284,000 buses and trucks), it appears unlikely that China will reach the magic 10 million number. 9.5 million vehicles seems more realistic.
The macro economy, of course, has been a big reason for the marked slowdown in vehicle sales in recent months. China's GDP grew at a blistering 11.4 percent pace in 2007, causing the government to take measures late last year to cool an overheated economy. China did its job all too well. The Shanghai index is down more than 70 percent from its peak in 2007; property prices across the country have softened; and GDP growth has been declining on a monthly basis since the start of the year. For the first time in five years, China's GDP growth rate is likely to fall below 10 percent in 2008. All of this happened before the financial crisis hit the global economy—and none of it is good for consumer confidence.
On top of a slowing economy, industry specific factors have also played a role in slowing vehicle sales growth. While fuel prices shot up for most of the world early in 2008, China did not raise gasoline and diesel prices until July. Therefore, auto sales in China were not affected by the higher cost of fuel in the first six months of the year because fuel prices had not changed since October, 2007. Only in July, August and September have Chinese consumers been faced with the higher costs of operating a vehicle. Moreover, with oil prices now in a free fall globally, the government has not only maintained its July pricing for the country as a whole, but it recently raised fuel prices in Beijing.  For the first time in memory, the price of gasoline at the pump is higher in China than it is in the United States.
With respect to commercial vehicles, China adopted stricter, Euro III emission standards as of July 1. This lead to a substantial pre-buy of heavy duty trucks as truckers scrambled to buy the lower priced Euro II trucks before June 30. Gangbuster truck sales in the first half of the year are now being followed by a marked slowdown in the second.
Ever since China joined the World Trade Organization in December, 2001, the country's auto industry has been on a tear, with vehicle production and sales increasing by at least 20 to 50 percent per year. China has reached a point where it is now producing at least as many vehicles as the United States and Japan and is destined to become the largest market for vehicles in the world—by a wide margin.
As 2008 comes to a close, however, there are many questions as to what 2009 will bring for the industry. For example:
What impact will a slower growing economy have on vehicle sales? Even before the financial crisis, many economists were predicting that China's growth rate could drop to as low as 8 percent in 2009.

How will the global financial crisis affect consumer confidence? Precipitous stock market declines all over the world; widely publicized government bailouts of banks and other financial institutions; and headlines calling this the worst economic crisis since the Great Depression are downright scary and do not inspire confidence. The natural tendency of consumers is to hold back on large purchases like autos when confidence is low.

What will the ultimate impact of higher fuel prices be on vehicle sales? Higher fuel prices have only been in place for three months in China, so this remains a big question mark.
Despite these concerns, auto executives look with envy at the China market as vehicle sales plunge in developed markets and General Motors and Chrysler fight for their very survival. While the China auto industry cannot be expected to grow as fast over the next five years as it has over the past five, vehicle sales should nonetheless continue to grow at double digit rates. Vehicle ownership is still extremely low in China compared to all but the least developed countries in the world, and continued economic growth will require more and more trucks, buses and cars to move people and goods around the country.
A lot of unanswered questions, but the future in China autos continues to be very bright.