China Autos Hurt By Economic Crisis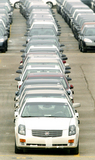 "Trees don't grow to the sky," a wise man once told me. After increasing at rates ranging from 20 percent to 50 percent per annum since China joined the World Trade Organization in December, 2001, vehicle sales in China fell victim to a slowing China economy, higher fuel costs, and a drastic falloff in demand due to the global economic crisis in the final quarter of 2008.  Despite registering an increase for the year, vehicle sales growth ended 2008 in negative territory.  In December, passenger car sales fell by 5.7 percent year-on- year, while commercial vehicle sales contracted by 19.9 percent, the largest decline in 46 months. The biggest losers in December were medium and heavy duty trucks which fell by 44.7% and 41.9%, respectively, on severe macro headwinds.
For the full year, passenger car sales totaled 5.3 million units, a 6.7 percent increase over 2007, and commercial vehicle sales totaled 3.7 million units, a 5.9 percent increase. Total vehicle production of 9.0 million units fell well short of the 10.0 million mark that many thought China might hit at the start of the year. But that goal became less and less certain with each passing month. A slowing economy in China, combined with higher fuel costs, caused industry growth rates to decline steadily from the 20 percent rate at the beginning of 2008.  The economic crisis then caused growth to fall into negative territory for many vehicle categories in the final months of the year. Total vehicle sales in December fell by 11.6 percent from a year earlier, the fourth monthly decline in five months.
As the New Year begins, the industry outlook appears anything but rosy. Kate Zhu, an executive director of research at Morgan Stanley, is forecasting a 3.1 percent decline for passenger cars and a 20 percent drop for heavy trucks in 2009. Ms. Zhu's forecasts are based upon GDP growth of 7.5 percent, and she expects China vehicle demand to get worse in the first half of the year before recovering in the latter part of 2009 or 2010.
In order to boost vehicle sales and stimulate the economy, China lowered fuel prices and eliminated many taxes and fees associated with vehicle ownership at the beginning of 2009. These changes have the effect of reducing annual end-user vehicle maintenance costs by 13.5 percent for family cars, 22.3 percent for large buses and 27.5 percent for heavy-duty trucks. On Wednesday, the government took the additional step of reducing the sales tax on smaller cars.   The change, which takes effect on January 20 and will be good until the end of 2009, halves the sales tax on vehicles with engine capacity of less than 1.6 liters from 10 percent to 5 percent.